CIDA Notices
Introducing measures for sustaining and upgrading the Construction Contractors in Sri Lanka focusing on inflationary and other industry issues
ශ්‍රී ලංකාව තුල හදුනාගත් ඉදිකිරීම් වැඩ සදහා සම්මත ලංසු ලේඛන භාවිතා කිරීමේ අවශ්‍යතාවය අවධාරනය කිරීම.
Read more - english / sinhala / tamil
ඉදිකිරීම් ආරවුල් විසදීම සදහා පවත්වනු ලබන උපදේශන සේවාවේ සමාරම්භක උළෙල...
Construction Dispute Resolution Clinic for Small & Medium Scale Contractors
Major restructuring of Dispute Resolution Clause as per the Construction Industry Development Act. No 33 of 2014 to be used in Identified Construction Works (ICW)
Condolence Notice - Engineer S. A. Karunaratne.
Supplier Registration 2023
CIDA is closed on every Friday for three (03) months effective from 24.06.2022 for its normal office works as per the directions issued by the Secretary to the General Treasury by the Circular No PED 03/2022 dated on 21.06.2022
Office is opened on Fridays if any other day/days of a week is published as a Mercantile holiday.
Registration of Qualified Persons (Firms) 2022
Calling Applications from CIDA Registered Construction Contractors who intend to be categorized as Design & Build Contractors in engagement of Local Contracts related to Identified Construction Works
Postponement - National Award Ceremony 2020/2021
Invitation for Bids - Reconstruction of 25 Bridges Project funded by KFAED - Bridge No. 4/1 on Ekala Kotandeniya Road
Information on Shortage/Scarcity of Cement for Construction Purposes Islandwide
Restructuring of Standard Bidding Documents and Procedures for Identified Construction Work (ICW) Gov/CIDA/Directive/101/2022
Registration of Suppliers for Goods and Services for the Year - 2022
REQUEST FOR PUBLIC COMMENTS ON THE PUBLISHED STANDING BIDDING DOCUMENTS (SBDS), FOR "IDENTIFIED CONSTRUCTION WORKS "IN SRI LANKA
CIDA Contribution to National Policy of His Excellency Gotabaya Rajapaksa - News Paper Article page 1 / page 2
Important Notice to all Stakeholders of the Construction Industry on Identified Construction Work (ICW)
Calling Application for Registration of Qualified Persons for the Identified Construction Works
Paper Notice English / Sinhala / Tamil
Notices and Announcements for CIDA Registered Construction Contractors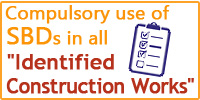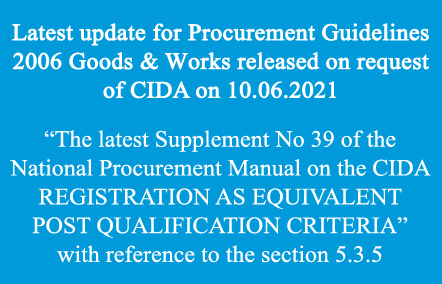 ANURADHAPURA INTEGRATED URBAN DEVELOPMENT PROJECT-Package 05 (B)
ANURADHAPURA INTEGRATED URBAN DEVELOPMENT PROJECT-Package 05
Reconstruction of 25 Bridges Project funded by KFAED - Bridge No.52/1 on Colombo-Galle-Hambantota-Wellawaya Road
Implementation of 100,000 Km Alternative Road System Under the Government's Policy Statement of "Vistas of Prosperity and Splendour"
Invitation for Bids
Baseline Road Extension Project – Phase III (Underpass Bridge and Single Cell Box Culvert)